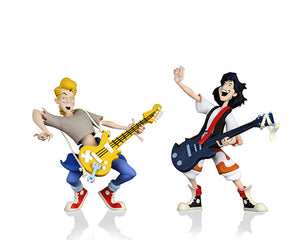 Toony Classics - 6" Action Figure - Bill and Ted 2 pack
NECA is proud to introduce Toony Classics, a fun take on beloved characters from film and television.
Starting off the line in a most resplendent way are the Wyld Stallyns themselves from Bill and Ted's Excellent Adventure. Standing approximately 6 inches tall, Bill and Ted's animated forms are akin to that of their 90s cartoon appearances. These two dudes come packed together rocking out on their favorite instruments.
Figures come in blister card packaging with bonus cutout backdrop