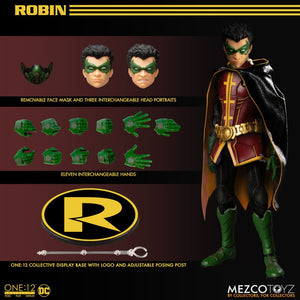 One:12 Collective - Robin
Sidekick, son, and one half of the Dynamic Duo, Robin joins the One:12 Collective!
The One:12 Collective Robin wears an armored tunic with 'R' insignia over his fitted bodysuit, utility belt, and hooded, serrated cape with an integrated posing wire. The Boy Wonder comes with 3 head portraits with various expressions.
Robin is more than equipped to defend Gotham City on his own and comes complete with multiple birdarangs, katana, bow and arrows, bo staff, and more.
Damian Wayne is a rebellious troublemaker who's been trained by assassins since birth. Assuming the mantle of Robin and using his lethal skill set and marginal sense of mercy, he no longer needs Batman to protect him from the criminals of Gotham.
THE ONE:12 COLLECTIVE ROBIN FIGURE FEATURES:
One:12 Collective body with over 30 points of articulation
Three (3) head portraits
Hand painted authentic detailing
Approximately 16cm tall
Eleven (11) interchangeable hands

One (1) pair of fists (L&R)
One (1) pair of bow holding hands (L&R)
One (1) pair of katana/bo staff holding hands (L&R)
One (1) pair of birdarang holding hands (L&R)
One (1) pair of posing hands (L&R)
One (1) relaxed hand (L)
COSTUME:
Hooded, serrated cape with integrated posing wire
Face mask (removable)
Armored tunic with 'R' insignia
Fitted bodysuit
Wrist gauntlets
SAP gloves
Utility belt (removable)
Boots
ACCESSORIES:
One (1) bo staff
One (1) katana
One (1) bow
Three (3) arrows
Three (3) small birdarangs
Two (2) medium birdarangs
One (1) large birdarang
One (1) birdarang throwing FX
One (1) grapple gun wrist mount with open hook & integrated posing wire (attaches to wrist)
One (1) One:12 Collective display base with logo
One (1) One:12 Collective adjustable display post
Each One:12 Collective Robin figure is packaged in a collector friendly box, designed with collectors in mind. 
FOUR Options To
Pre Order
1. $10 Non Refundable Deposit Now / $85.00 due before shipment.


2.$47.50 Down Now , $47.50 later ($10 Non Refundable If Order Cancelled)


3. Payment Plan -  FIVE payments of $19.00 (Due Dates outlined below)--NOW CLOSED


Payment Plan is only for those that can read the dates, keep track, and pay on time responsibly.  Please read details and terms below.
Please read before starting payment plan.  $19.00 non refundable deposit if order is cancelled.  1st Payment due immediately.  2nd Payment due DEC 1ST 2022.  3rd Payment due FEB 1st 2023.  Fourth Payment due APRIL 1st 2023. 5th payment due when he is on the way to our warehouse in 2023.   Emails will be sent out to remind of payment.  It is your responsibility to keep track of due dates in case emails get sent to spam or if they do not get sent out at all.  Link to complete part 2,3, 4,  and 5 of payment plan can be found  under the payment plan link.  


4. Full Payment Now $95.00 ($10.00 Non Refundable if order cancelled) 
Link to pay off remaining balance and or payment plan can be found here.  Please make sure you are paying under the correct link.  There will be a page for options one and two.  There will be a separate page for the payment plan participants.
How does NRD and pre order work?   NRD is a non refundable deposit.  The deposit secures your order.  Once the item is on the way to our warehouse, we will email an invoice with the remaining balance.  (For example, $10 NRD now, $80 remaining balance invoice will be sent in the fall or winter of this year.)  Failure to pay the remaining balance
on time

and after multiple attempts of us reaching out, may result in order cancellation.  If order is cancelled due to non payment,

we have the right to keep the non refundable deposit.