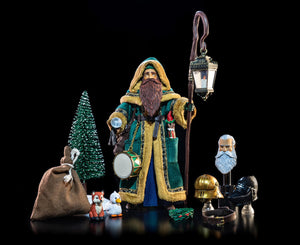 Figura Obscura: Father Christmas - Green Robes
PRODUCT DESCRIPTION
Legends are tales that span across the ages. They are translated and retold over great spans of time, with each  storyteller often adding their own additions to their version of the narrative. From these stories come characters  whose experiences and characteristics may change from tale to tale, but who are instantly recognizable to any  who hear those stories or see the images that may accompany them. Across the geography of our world, and  from culture to culture, there are few legendary characters as enduring, as recognizable, and as beloved as the  one they call Father Christmas.
Link to pay off remaining balance and or payment plan can be found under remaining balance drop down menu.  Please make sure you are paying under the correct link.  There will be a page for options one and two.  There will be a separate page for the payment plan participants.
How does NRD and pre order work?   NRD is a non refundable deposit.  The deposit secures your order.  Once the item is on the way to our warehouse, we will email an invoice with the remaining balance.  (For example, $10 NRD now, $80 remaining balance invoice will be sent in the fall or winter of this year.)  Failure to pay the remaining balance
on time

and after multiple attempts of us reaching out, may result in order cancellation.  If order is cancelled due to non payment,

we have the right to keep the non refundable deposit.