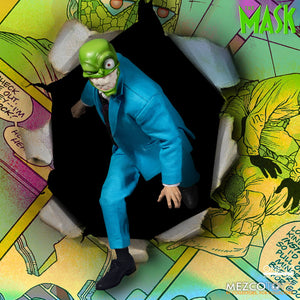 One:12 Collective - The Mask Deluxe Edition
ESTIMATED
SHIP DATE  July - September 2024 (DATES MAY CHANGE)
FOUR Options To
Pre Order
1. $17 Non Refundable Deposit Now / $95 due before shipment.
2.$56 Down Now , $56 later ($15 Non Refundable If Order Cancelled)
3. Payment Plan -  Four payments of $28 (Due Dates outlined below)
Payment Plan is only for those that can read the dates, keep track, and pay on time responsibly.  Please read details and terms below.
Please read before starting payment plan.  PAYMENT PLAN IS NON REFUNDABLE.  1st Payment due immediately.  2nd Payment due December 1ST 2023.  3rd Payment due April 1st 2024.  Fourth Payment due 30 days before shipment.   Emails will be sent out to remind of payment.  It is your responsibility to keep track of due dates in case emails get sent to spam or if they do not get sent out at all.  Link to complete part 2,3, and 4 of payment plan can be found under the payment plan drop down menu.  
4. Full Payment Now $112 ($17.00 Non Refundable if order cancelled) 
Link to pay off remaining balance and or payment plan can be found under remaining balance drop down menu.  Please make sure you are paying under the correct link.  There will be a page for options one and two.  There will be a separate page for the payment plan participants.
How does NRD and pre order work?   NRD is a non refundable deposit.  The deposit secures your order.  Once the item is on the way to our warehouse, we will email an invoice with the remaining balance.  (For example, $10 NRD now, $80 remaining balance invoice will be sent in the fall or winter of this year.)  Failure to pay the remaining balance
on time

and after multiple attempts of us reaching out, may result in order cancellation.  If order is cancelled due to non payment,

we have the right to keep the non refundable deposit.

 
PRODUCT DESCRIPTION
Get ready for a riotous rampage as The Mask joins the One:12 Collective!
The deluxe One:12 Collective The Mask is dressed to kill, outfitted in a vintage style suit inspired by his appearance in Dark Horse comics. The look consists of a removable suit jacket, white shirt, tie adorned with a skull pattern, belt, pleated suit pants, and dress shoes.
The antihero is all smiles! He comes complete with three interchangeable head portraits that capture varying toothy expressions including a multi-faced, comical, double-take expression. He wouldn't be The Mask without a wide array of weaponry including two customized uber-guns that are no laughing matter – a maniacal combination of firepower fit only for The Mask! Also included are guns, more guns and even more guns…
Unleash chaos with The Mask today – it's time to let the mayhem loose!
THE ONE:12 COLLECTIVE THE MASK FEATURES:
One:12 Collective body with over 28 points of articulation
Three (3) interchangeable head portraits including a comical double-take expression
Hand painted authentic detailing
Approximately 17 cm tall
Nine (9) interchangeable hands

One (1) pair of posing hands (L&R)
One (1) pair of gun resting hands (L&R)
One (1) pair of gun trigger hands (L&R)
One (1) pair of fists (L&R)
One (1) pointing hand (R)
COSTUME:
Vintage style suit jacket (removable)
Shirt
Tie with skull pattern
Belt
Vintage style pleated suit pants
Dress shoes
ACCESSORIES:
One (1) uber-gun
One (1) uber-gun with interchangeable barrels
One (1) Tommy gun
One (1) pistol
One (1) submachine gun
Two (2) bombs
Three (3) gun blast FX
One (1) One:12 Collective display base with logo
One (1) One:12 Collective adjustable display post
Each One:12 Collective The Mask – Deluxe Edition figure is packaged in a collector-friendly box, designed with collectors in mind.
*This product is intended for collectors ages 18 and up and is not suitable for children. The product may contain small parts that can be a choking hazard as well as sharp points that can cause injury. The item is not designed for rough play and is considered a display item for collectors.