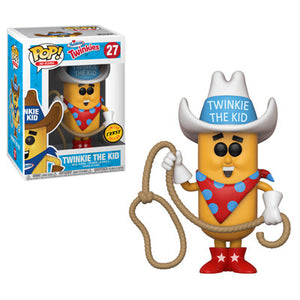 Pop! Ad Icons: Hostess - Twinkie the Kid Chase
Guaranteed Chase

"Yahoo!"
Twinkie the Kid® has been slinging delicious cream-filled snack cakes
 for nearly 50 years but in typical Twinkie™ fashion he doesn't look a day over 20.
To celebrate Twinkie the Kid's® lengthy career as a popular Ad icon, he's getting
 the Pop! Vinyl treatment, spinning a lasso while sporting his
characteristic bandana, 10-gallon hat and cowboy boots!