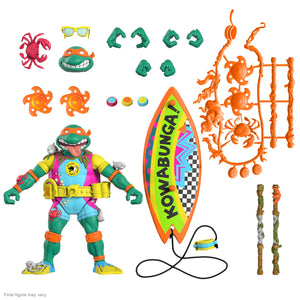 Teenage Mutant Ninja Turtles ULTIMATES! Wave 6 - Mike the Sewer Surfer (Pre-Order)
*THIS ITEM IS A PRE-ORDER*
ESTIMATED TO SHIP OCTOBER 2022 (DELAYS MAY HAPPEN)
FREE SHIPPING INCLUDED IN PRICE
SHIPS USA ONLY - CANADA PAYS EXTRA
THREE OPTIONS TO PRE ORDER:
1.  FULL PAYMENT - $65
2. HALF NOW $32.50 / HALF WHEN READY TO SHIP $32.50
3. MINIMUM DEPOSIT NOW - $10 / REMAINING BALANCE WHEN READY TO SHIP $55
**ALL ORDERS FINAL - NO REFUNDS WILL BE GIVEN FOR ANY CANCELATIONS**
When he's surfin' the sewers, Michelangelo is living his best Ninja Turtle life! This 7" scale fully articulated Teenage Mutant Ninja Turtles ULTIMATES! figure of Sewer Surfer Mike features super gnarly surfer gear detail and comes with interchangeable heads and hands, as well as iconic accessories, including his Sewer Worthy Surfboard, Seaweed Nunchucks, and a weapon rack in case he has to wipe out some baddies while hangin' FOUR! The sewers may not exactly be Hawaii's North Shore Pipeline, but they are a LITERAL pipeline, and Michelangelo wouldn't have it any other way. Don't wave away the chance to add the Teenage Mutant Ninja Turtles ULTIMATES! Sewer Surfer Mike figure to your collection!
Accessories:
2x interchangeable heads

8x interchangeable hands

2x Fists

2x Gripping hands (vertical hinge)

2x Gripping hands (horizontal hinge)

2x Open hands 

Removable Sunglasses

Sewer Worthy Surfboard with Elastic Surf Leash

The Crab

2x Wave-Whipping Water Flinging' Wheel

3x Turtle Wax

2x Seaweed Nunchucks 

Weapon Rack including:

The Crab

2x Wave-Whipping Water Flingin' Wheel

3x Turtle Wax

2x Seaweed Nunchucks