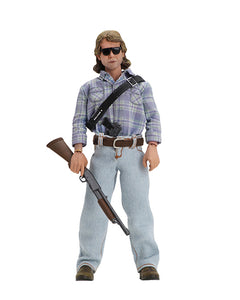 They Live – 8" Clothed Action Figure – John Nada
He's here to chew bubblegum and kick ass, and he's all out of bubblegum.
For the first time ever in action figure form, John Nada as portrayed by "Rowdy" Roddy Piper in John Carpenter's They Live will be released in the 8″ Clothed action figure format. A perfect complement to the previously released 2-pack, Nada comes with an accessory shotgun and pistol, dressed in a plaid shirt, blue jeans, and special sunglasses to see right through the aliens' disguise.
Clamshell packaging with custom artwork